Randy Heisler to Present at AISTech 2017 Conference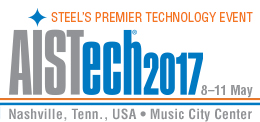 Life Cycle Engineering's Randy Heisler will present a session entitled "Reliability and Cost Leadership" at the upcoming Association for Iron & Steel Technology (AISTech) conference being held in Nashville, TN. The session, taking place on Tuesday, May 9th at 2:00 PM (CDT) will focus on the correlation between reliability, cost leadership and achieving a competitive advantage.
Heisler will also be a participant during a panel discussion on "Surviving the Global Downturn – Achieving Production Excellence While Postponing Major Maintenance Outages." The panel will explain how plants have been able to successfully demonstrate campaign extension repairs and partial relines. This session is part of the Project and Construction Management track and will take place on May 9th at 2:00 PM (CDT).
Click here for complete details regarding both presentations.
The Association for Iron & Steel Technology (AIST) is a non-profit organization with 17,500 members from more than 70 countries. With 30 Technology Committees and 22 Local Members Chapters, AIST represents an incomparable network of steel industry knowledge and expertise.
AISTech Conference 2017 Video